Our Furniture-Bookcases & Glass Displays
A bookcase is a versatile use of architectural salvage. The old flooring taken from a old house is used to make the back of the bookcase. Reclaimed baseboard, old porch poles, and trim from the house are used to decorate the front of the bookcase. The size of these pieces varies from 2 to 6 ft wide and 5 to 7 1/2 ft tall, and is approx.14 to 16 inches deep. You can order your bookcase in any of our colors, and they are available in one and two piece styles.
Whether displaying your knick knacks or grandma's finest china you will be proud to use these beautiful display cases made from old antique windows. As you would guess these pieces are available based on the sizes of architectural salvaged windows that we have in stock.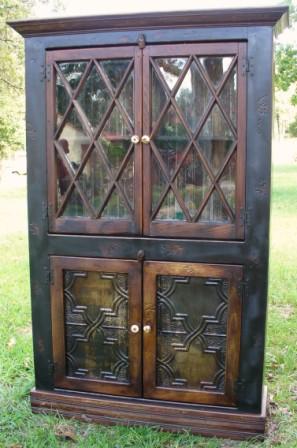 Black Glass Display
Glass Display